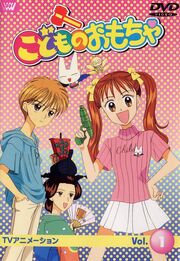 The Kodocha anime adaption aired in Japan weekly from April 5, 1996 to March 27, 1998. It has 102 episodes in total. The first 51 episodes deal with the elementary school arc and the remaining 51 episodes deal with the middle school arc.
The first half of the anime series was licensed for North American distribution by FUNimation and has been released on DVD; the second half remains in limbo.
Theme Songs
Edit
Opening Themes
Edit
"19 O'Clock News" by Tokio (episodes 1 - 44)
"Ultra Relax" by Tomoe Shinohara (episodes 45 - 102)
Ending Themes
Edit
"Panic" by Still Small Voice (episodes 1 - 39)
"DAIJO-BU" by Tomoko Hikita (episodes 40 - 74)
"Pinch (Love Me Deeper)" by Rina Chinen (episodes 75 - 102)
Season 1
Edit
No.
Ep.
Title
Original air date
1
001
I'm an Elementary School Student with an Agent
April 5, 1996

Sana Kurata is a sixth grader at Jinbou School, and the star of a variety show. Her class is a mess because of a troublemaker named Akito Hayama. When she tries to defend her teacher, he ignores her, and Sana gets very angry. Out of frustration, Sana complains about Akito on her TV show. The next day at school, she is confronted by the boys for her actions. While getting ready to "fight them off", Akito shows up and tells the boys to leave her alone, leaving Sana wondering why he'd do that after what she said about him on TV.

2
002
The Whole Classroom is a Monkey Mountain
April 12, 1996

Sana continues to confront Akito, and the girls in the class join her. He hurts on of her friends and she slaps him. They confront each other privately and exchange threats.

3
003
Operation Eyeball, Toothball
April 19, 1996

Sana learns about Akito's weakness, a fear of heights, and tries to exploit it but fails to think it through. She challenges Akito to a contest and ends up losing herself. However, Rei gives her an even better idea: to take an embarrassing picture of Akito as blackmail.

4
004
Lone Wolf, Awooo!
April 26, 1996

Akito has stopped acting up because of the picture, and another boy vies for the "boss monkey" title. They start to brawl, but Sana threatens to release the picture of Akito if he fights back because Sana insists violence is not the answer. In the end, she changes her mind, just a little bit, and allows one punch from Akito, who knocks out the other boy.

5
005
Where are You Going Mr. Dark and Gloomy?
May 3, 1996

Sana gets a glimpse of a family very different from her own: Akito's family. She learns that Akito's mother died giving birth to him and his sister blames him for her death.

6
006
Crazy Stew Family Crisis
May 10, 1996

Sana is determined to make an impression with her next job on a TV drama, which is about a family with problems similar to Akito's. She even drags Akito's father home to watch it, only to fail to get the whole family to watch it together when Akito disappears. When she finds Akito, she acts as his mom and realizes he has a fever. Then, for the first time, Akito's father takes Akito's home, leaving a triumphant Sana watching them go.

7
007
Asako Kurumi... Rival in Love!
May 17, 1996

Whenever Sana meets her drama co-star Asako, her manager Rei always disappears. Then, Asako asks Sana to do a "chat" with her, and Sana agrees. Rei tries to get out of driving her by pretending to have a stomach ache, but is found out. During the "chat," Sana reveals that she found Rei as a homeless bum before he became her manager, and Asako realizes that Rei was her ex-boyfriend. We see Rei without his glasses for the first time, and Sana declares that she has a rival in love.

8
008
A Fruit Juice Soaked First Kiss
May 24, 1996

Sana learns why Rei has been acting so weird. So, she thinks that the field trip will help her forget. Up on the top floors Akito starts feeling sick due to his fear of heights. Sana overheard how juice helped a girl who was feeling sick, so Sana runs to gets some juice, but on her way back to Akito, she trips and spills the juice all over him. While, she is wiping the juice off of him, Akito leans forward and kisses her.

9
009
Double Double Sana's Love Trouble
May 31, 1996

Sana copes with her surprising first kiss, Asako visits Rei, and Misako summons Akito.

10
010
Love Flew Out the Window Like a Chicken!
June 7, 1996

Sana meets Aono, Tsuyoshi's younger sister. She decides to give Aono a pleasant surprise, to Akito's objections. She also finds out Rei is not truly in love with her.

11
011
Mr. Hayama, You're a Real Dad
June 14, 1996

Sana becomes a little more grown-up about Asako and Rei. The Hayama family has a family emergency. Sana gives Akito a Burutcha buzzer.

12
012
This Time, Sana is the Lone Wolf
June 21, 1996

After working too hard because her manager, Rei, signed her up for too many commercials, Sana forgets a promise she made with her friends, and they create an outcast of her. Akito and Tsuyoshi stand up for her, and in the end, Sana is forgiven by her friends.

13
013
My Name's Going to Change
June 28, 1996

Tsuyoshi misses school one day, and Akito and Sana get together to help their friend. Tsuyoshi's parents have divorced, and Tsuyoshi's mother needs help moving. Akito does something to bug Sana when they get close again. Tsuyoshi also says something to Sana and Akito gets jealous.

14
014
The Promised Summer, Part 1
July 5, 1996

Everyone is excited about a class camping trip. While Sana acts cheerfully as usual, Akito notices that she seems worried. Eventually she tells him that she's worried about the promise she made with her mother, which, if fulfilled, might ruin the happy life they had. Sumirei Ando, a teacher, discovers the joys of limbo dancing.

15
015
The Promised Summer, Part 2
July 12, 1996
Sana returns form the class trip and learns that her next job will be a commercial with popular actor Naozumi Kamura.
16
016
Two Pounding Hearts
July 19, 1996
Sana performs in a play and invites her classmates, teachers, and Naozumi. Akito gets jealous after Naozumi gives her a flower onstage, and makes a big decision about his life.
17
017
Mother's Book of Surprises
July 26, 1996
Misako's essay, "My Daughter and I" is released. The book reveals that Sana was found abandoned. Both Akito and Naozumi vie to help Sana through the pressures of intense media attention.
18
018
Two Hungry People Playing Hide and Seek
August 2, 1996
After hearing about Sana's childhood, Akito rushes over there. He barges in and grabs her, heading towards his house, where Sana stays the night.
19
019
Daughter Cries, Mother Cries
August 9, 1996
Sana meets her biological mother and her half-sister, Mariko. Sana has fun with Mario at the amusement park but when her biological mother asks her to come live with her, Sana turns her down and promises that she will never see her again. Afterward, Misako and Sana have a heart-to-heart talk.
20
020
Sana's Super Happy Quiz Show
August 16, 1996
This episode is set up as a quiz show, recapping from the start of the story to now. During the quiz show, Babbit has fun at Sana's expense.
21
021
Look Out! It's a Pint-Sized Akito!
August 23, 1996
Sana visits Kamura Academy with Naozumi. She meets a small boy whose attitude resembles Akito's, and she goes through a chain of events to defeat him.
22
022
Karate Heart, Quitting Blues
August 30, 1996
Akito begins to study karate but isn't happy with his first lessons. Sana considers dropping out of the show business.
23
023
Sunny, With Occasional Disappearing
September 6, 1996
Sana helps find Mariko.
24
024
Math Mess
September 13, 1996
Principal Narunaru goes on a business trip, and Ms. Ando takes this opportunity to threaten Class 3 of not advancing to junior high school with a math test that they're required to pass. Sana freaks out over her mathematics skills, and Akito becomes "Hard-Boiled Hayama" once again, blackmailing the teachers to stop the math test. However, he only appears to blackmail them, and he reveals that he only has a photo of Ms. Ando limbo-dancing - this makes her want to limbo dance, and she does.
25
025
A Bandage for a Broken Heart
September 20, 1996
Due to an event that had happened when Akito was still causing trouble, Mami is scared of Akito, and Sana tries to fix this.
26
026
Every Chicken Has Its Day
September 27, 1996
Sana's gift to Aono, a little baby chick, has grown into Piyoko.
27
027
Pity Me and Cough Up Some Dough
October 4, 1996
Misako's ex-husband, Ryosuke asks Sana for a favor. Akito and Tsuyoshi become worried about her.
28
028
The Romantic Love Song of Mr. Hayama
October 11, 1996
Sana and Tsuyoshi visit Akito's mother's grave with the Hayama family on Akito's birthday. Sana, Tsuyoshi, and Natsumi also meet a mysterious woman, which they think is Mr. Hayama's new girlfriend.
29
029
Here She Comes, Mama's Mama
October 18, 1996
Misako's mother Shizuka visits Misako and Sana in Tokyo. Grandma Shizuka brings with her quite a few other visitors. When Misako refuses to cooperate with Shizuka's schemes, she turns her attention to Sana.
30
030
Rei and the Jolly Green-Eyed Monster
October 25, 1996
Asako stars in a romantic drama with popular performer Takuya Kimochi, and the rumors begin. Rei gets upset because of a love scene.
31
031
A Snake Came Slithering in Muddy Shoes
November 1, 1996
A tabloid photographer named Kurosaki is determined to get a scoop on Sana. He brings Akito in the middle.
32
032
Daddy, You're Busted!
November 8, 1996
Tsuyoshi's father is thrown in jail, and Tsuyoshi and his sister are picked on. When it's time for Tsuyoshi's father to get out of jail, he wants to go see him.
33
033
Love Tastes Like Curry
November 15, 1996
The boys and girls of Class 3 battle it out over after-school cleaning chores. Miss Mitsuya takes the girls' side, and Mr. Tanaka takes the boys's side. Aya and Tsuyoshi can't bear being apart during the fighting. Sana proclaims war.
34
034
Three, Two, One: Sing!
November 22, 1996
It's Zenjiro's birthday so Sana plans to hold a birthday party for him. Sana on the way meets two friends. One is a total diva, who despises Sana. Her ability to have instantaneous happiness influences one of the girls.
35
035
There's a Reason for the Gift
November 29, 1996
Tsuyoshi receives an anonymous gift. He avoids Aya because he falls in love with any girl who gives him a present, so he's ashamed.
36
036
Take Me To Kusatsu!
December 6, 1996
Winter vacation brings a trip to the Kurata Hot Springs Inn in Kusatsu. The Hayama family are surprise guests, invited by her matchmaking grandmother. Akito and Sana overhear another family threatening to take over the inn because no one from Sana's family wants to inherit it, and she considers moving there.
37
037
Karate and Trumpet Compete for a Kiss
December 13, 1996
Akito stresses about trying to buy a gift for Sana, and Sana stresses about a job. Rei's distracted while looking forward to his Christmas Eve date with Asako, and Naozumi challenges Akito. Sana worries about her kissing scene with Naozumi for work, but it turns out to only be on the cheek.
38
038
The Special Christmas Kiss
December 15, 1996
Sana is throwing a Christmas party. Akito was unsure what to get for Sana so he asks his friend and sister. They both tell him anything is good and to give her something from his heart. He goes to the party empty-handed. When Sana sees Akito, she gives him a gift. At the end, he makes her a snowman, which she really likes. He kisses her and then runs away right after their lips separate, and Sana later wonders why she didn't run away from his kiss this time.
39
039
Haya-Moths/Ooga Booga Boo
January 3, 1997
2 short stories: 1A. Haya-moth turns everyone into moths. 1B. Remix of the first couple episodes in prehistoric times.
40
040
Suddenly One Day, I'm Homeless Sana!
January 10, 1997
The Kurata household copes with a setback. While Sana and Misako remain optimistic, Rei faces greater obstacles as Sana's manager.
41
041
He Got Me Blacklisted!
January 17, 1997
Sana cannot find work, but it seems to be bigger than everyone expects.
42
042
The Deadline's Here!
January 24, 1997
Onda had asked Sana to write a book. Sana then puts off the book until there's only about a week left. Sana then frantically tries to finish the book before the deadline.
43
043
Age Difference, Shmage Difference
January 31, 1997
Reporters believe Sana and Takeshi to be father and daughter, but Sana says that it's not true and then declares that they are lovers. During this, Gomi's parents pressure him to apply to an advanced middle school. Word gets out and other students tease Gomi, and he blames Akito for telling them. Gomi and his friends beat up Akito.
44
044
Gomi, Gomi, Where Are You Going?
February 7, 1997
Gomi does some shoplifting and then runs away, bumping into Akito. Akito gets blamed for shoplifting. Gomi learns later that Akito wasn't the one that told everyone about Gomi going to advanced middle school, realizes what he's done, and confesses to his crime.
45
045
Bittersweet Valentine's Day
February 14, 1997
Takeshi misses work, leading everyone to believe he drops out. Sana searches for him.
46
046
Am I Wrong?
February 21, 1997
Sana's book hits the store shelves, but Mami wasn't mentioned anywhere in the book.
47
047
Under the Same Roof with You
February 28, 1997
The apartment that Sana stayed in gets torn down, and for another week, the Kurata family is homeless. Misako takes a trip to study for her new book. Rei plans to stay at a hotel with Sana, but Sana makes other plans.
48
048
Father, You Were My Father
March 7, 1997
Misako learns something about Takeshi. Later Sana and Takeshi go to shoot a scene in their drama, and then Takeshi collapses during the shooting from a chronic disease.
49
049
The Final Scene
March 14, 1997
Takeshi finds out that Sana is actually his daughter. He leaves the hospital to go shoot the drama with Sana. He dies at the end from a chronic disease with Sana in his arms.
50
050
Through the Tears, Spring Comes
March 21, 1997
Depressed by the death of Takeshi, Sana leaves for the mountains and Akito convinces her to come home.
51
051
Goodbye Yesterday, Hello Tomorrow
March 28, 1997
A flashback episode where several of Sana's friends gather to discuss the relationship of Sana and Akito. They all wear masks to conceal their identities.
No.
Ep.
Title
Original air date
52
052
I Made a New Friend in the Bathroom
April 4, 1997
It's the first day of middle school, and Sana meets a new girl, Fuka, in the bathroom. They discover they have much in common and quickly become good friends. After meeting Akito, Fuka slaps him and blames him for messing up her life.
53
053
The Kiss That Ruined My Life-Plan
April 11, 1997
Fuka tells Sana why she slapped Akito, and about how Akito ruined her life by stealing her first kiss in kindergarten.
54
054
Sana Who Cannot Love Completely
April 18, 1997
Sana tells Tsuyoshi that she doesn't believe in love anymore because of what happened with Rei.
55
055
The Actress Goes to the Mountains to Shoot A Movie
April 25, 1997
Sana leaves to film a movie in a secluded mountain area.
56
056
Really, Really Seriously Really
May 2, 1997
Sana arrives at the shooting location. While shooting, Naozumi stops and just stares at Sana. Then he tells her that he is starting to fall in love with her.
57
057
Pretend Boyfriend for Sushi
May 9, 1997
Fuka asks Akito to pretend to be her boyfriend, and bribes him with sushi, so she won't lose face to her old friends.
58
058
Romance in the Mountains
May 16, 1997
Naozumi confesses his feelings to Sana and then gets rejected.
59
059
Getting Past an Injury
May 23, 1997
Sana gets attacked by Naozumi's fans, since Naozumi likes Sana.
60
060
Becoming Aware of Love After Being Jilted
May 30, 1997
Sana finds out that Akito is going out with her best friend, Fuka. She realizes that she is in love with him, with Asako's help, and then gets her heart broken.
61
061
I Won't Cry After Being Jilted
June 6, 1997
Misako visits Sana on the set and tries to cheer her up.
62
062
This Summer's Constant Flames
June 13, 1997
In the scene where Sana is supposed to emerge from the burning mansion, she started dancing inside, but then her leg starts to hurt where Naozumi's fans hit her, so she isn't able to move.
63
063
Don't Believe in Rumours
June 20, 1997
The tabloids have been printing that Sana and Naozumi are going out, which her friends all believe. Sana gets upset that her friends believed the media and didn't ask her first. She then runs away, and when Akito runs after her and asks her what she's so upset about, Sana slaps him. Then she quickly makes up an excuse and runs away, leaving Akito surprised.
64
064
The Truth is There
June 27, 1997
Naozumi reveals the facts about his relationship with Sana on live broadcast and how the person Sana really likes is Akito. Sana goes to confront him. Naozumi says it was his revenge for Sana dumping him, although he really said it because he wants Sana and Akito to be happy together, and knows Sana will never confess on her own. The next day, Sana avoids Akito all day at school. She gets a minor injury and uses the excuse to hide in the infirmary. She finds that Akito is on the bed next to her, sleeping. She gets up and makes an escape just as he wakes up. Upon seeing him come out, Sana runs, but he catches her and confronts her.
65
065
And Then The Pair Say Goodbye
July 4, 1997
Sana and Akito finally directly confess their feelings to one another. Fuka, however, overhears the conversation, and runs away. Sana runs after her and tries to convince her that their feelings are in the past. Akito catches up and upon hearing this, walks away. Fuka declares that she'll never give up on Akito and runs away in tears. Sana then sits down and wonders what she should do now.
66
066
Run Away, Run Away, Over the Ocean
July 11, 1997
Sana and Naozumi leave for New York to star in 'Endless Summer', a Broadway musical they're to star in. Sana's friends go to the airport as Sana and Naozumi are getting ready to board. Akito and Sana gaze at each other. Fuka holds Akito's hand and he then holds hers. Sana sees this and believes Akito has chosen Fuka. Naozumi holds Sana's hand to comfort her. The plane leaves and Akito watches it with a sad expression on his face.
67
067
Suspense in New York
July 18, 1997
When Sana and Naozumi arrive in New York, strange things start to happen. They meet a boy named Brad, who looks identical to Akito. A chandelier almost falls on them and a huge truck nearly runs them over. They believe they are being targeted, and during the night, Sana believes that she sees a ghost.
68
068
Riddles of Passing into Society
July 25, 1997
Rei goes to Hollywood to find Mr. Hamilton whike Sana and Naozumi start rehearsal. Sana ends up getting hurt and Naozumi is pushed to his limit. Sana then gets a warning from Brad that they have been targeted.
69
069
You Also Have Emerald Eyes
August 1, 1997
Sana and Naozumi discover who the "ghost" is: Cecil, the daughter of Michelle. When Cecil points out that she has emerald eyes like Naozumi, her mother gets angry for some odd reason. Rei then returns from Hollywood. After finding out that Sana and Naozumi have been attacked again, they all decide to move out of the mansion and go to a hotel instead.
70
070
Dangerous Feelings at Lunchtime
August 8, 1997
Sana, Rei, and Naozumi spend their first night at the hotel. Naozumi encounters the strange man from before and just before he reveals his secret, Rei and Sana interrupt. During Sana and Naozumi's rehearsal, Rei looks for an apartment. Cecil runs away to be with Naozumi and Brad is clearly jealous. They soon find out that Brad is the one terrorizing them. Mr. Hamilton then makes an appearance for the first time. Meanwhile, Sana and Naozumi are attacked but then they are saved by Mr. Gary Hamilton.
71
071
The Unexpected Type of Mother
August 15, 1997
Brad reveals why he is terrorizing Sana and Naozumi. Brad wanted to push Naozumi from Cecil, since Cecil was in love with Naozumi, but Brad likes Cecil. Naozumi meets his biological mother.
72
072
My Exposed Secret
August 22, 1997
Brad tells Naozumi that Cecil is his biological sister, and that's why Cecil cannot love Naozumi. Naozumi runs away crying because he didn't know anything about Cecil being his sister, and is almost hit by a car.
73
073
Stupid American & Child
August 29, 1997
Cecil thinks that nobody wants her or loves her because she tore her leg tendon and can't dance, because at the hospital she overheard her mother say she didn't want Cecill because she couldn't dance. Sana cheers her up a bit and explains to Cecil why she shouldn't be so selfish and spoiled about such a reason. Meanwhile, Naozumi's mother, Yuko, is acting suspiciously.
74
074
Mother's Gleeful Practical Joke
September 5, 1997
Yuko has decided to use Naozumi as a tool to get her fame. She tells Gary that Naozumi's heart belongs to her, and that she'll only get away from Naozumi if Gary gives her one of the leading parts in one of the top ten Broadway shows.
75
075
Where in Manhattan is My Daughter?
September 12, 1997
Cecil overhears Yuko and Naozumi's conversation and discovers that Naozumi is her brother. She runs away and her parents search all over Manhattan for her. Every time they think they've found her, it turns out to be a different person, which leads to comical situations.
76
076
Should We Go Home? Or Not?
September 19, 1997
Naozumi finds out that his mother just used him to be in the spotlight. He is extremely shocked and Sana asks if he wants to go home. They decide to go back to Japan.
77
077
Papa, You're Bad
September 26, 1997
Naozumi and Sana decide not to go to Japan after all and set up a meeting for the Hamilton family. Gary, Michelle, and Cecil talk out their problems and become a closer family, realizing it is all Gary's fault.
78
078
The First & Last Mother/Son Battle
October 3, 1997
Yuko's change to shine is gone. Her crew gets mad at her and quits. The play is cancelled and she loses her mind. Rick doesn't know what to do, so he begs Naozumi to help her, but instead of helping, Naozumi lets out all of his anger on her, since she has done horrible things to him in the past and had taken advantage of him.
79
079
The Father Who's Unable to Be A Father
October 10, 1997
Gary tells the public that Naozumi is his son and that he is going to raise Naozumi as a big star. Naozumi, however, doesn't want to stay in America; he wants to go back to Japan because he never thought of Gary as his father.
80
080
One More Song 3-2-1
October 17, 1997
Set in New York, there has been a crazy law passed prohibiting singing and music, so Sana and Naozumi continue to sing and attempt to get this law reprieved. Auyu and Tomomi, two other actors the same age as Sana, make another appearance as cops. This time the song is "Port City Charleston".
81
081
Hello, Goodbye, My Love
October 24, 1997
Sana and Naozumi are returning to Japan and are on the plan. This episode is just a recap of everything that had happened so far during Sana's junior high school years. Then they realized they left without Naozumi's manager.
82
082
We Got Along Great Afterwards
October 31, 1997
After Naozumi and Sana went to New York, Akito and everybody had continued in their normal lives. Akito seems to begin to like Fuka a bit. Akito and Fuka got a picture of them together in a magazine saying they're a great couple.
83
083
Perhaps They Are the Best Couple
November 7, 1997
Sana's friends welcome her back and pay her a visit, where she announces that she and Naozumi are officially a couple.
84
084
The Manager Trouble
November 14, 1997
Naozumi is assigned a new manager: Riho. Riho seems to be nice on the outside, but has ulterior motives.
85
085
The Line that Couldn't Be Spoken
November 21, 1997
When overlooking her lines for a part in a movie, Sana sees that in a scene, she has to call another character a devil. Fuka gets an eye injury when trying to help Akito fight bullies in an arcade, and Akito feels responsible.
86
086
Everything Is Clearer When You Can't See
November 28, 1997
Now that Fuka is temporarily blinded, she realizes that Sana still likes Akito and vice-versa. Fuka wants to break up with Akito, knowing Sana and Akito's feelings for each other.
87
087
Fight For It or End It?
December 5, 1997
Fuka tells Akito not to come anymore and breaks up with him. Akito becomes somewhat sad and runs to the park, where he sees Sana again. They almost confess their feelings for each other but get interrupted.
88
088
So This Kind of Day Has Come
December 12, 1997
Sana doesn't have anymore jobs and takes a break, going back to school. When she visits Fuka, Fuka's mother tells Sana that Akito and Fuka have broken up because of her injury. Naozumi comes to Sana's house and says that they should break up, since she still loves Akito.
89
089
Hallelujah on X-mas Eve? My heart...
December 19, 1997
Time for some self-reflection! So much has happened in the past year for Sana and her friends. Fuka dumped Akito... Naozumi dumped Sana... So, does Sana still have a chance with Akito? Naozumi calls Akito and tells Akito to watch the premiere of the series that Sana was fired from because she couldn't say her lines. Akito and Sana meet at a park and Akito makes a snowman like last year. When they're about to confess their feelings, Tsuyoshi and the other interrupt and they end up having a snowball fight.
90
090
Hayama's mother is Mecha-Hayama
January 2, 1998
1A. Hayama's father builds a robot mother, who then proceeds to ruin Tokyo. Magical girl Sana tries to defeat Mecha-Hayama but is unexpectedly stopped by Akito. 1B. Sana and the others are all turned into animals or inanimate objects. Prince Naozumi has turned into a toilet seat and skunk-Sana has to kiss him to undo the spell.
91
091
Visit from a fan at the beginning of the New Year
January 9, 1998
Sana's Fan Club contacts Sana because they are disappointed in her lack of work.
92
092
Not a simple math video
January 16, 1998
Sana doesn't understand the subject she's trying to teach for her new job.
93
093
The same name appears
January 23, 1998
Sana gets a strange letter from someone using her name. The fake Sana sends letters to past directors and actors.
94
094
Kodocha rises from the dead
January 30, 1998
Sana and Zenjiro are reunited in the new series "Kodocha".
95
095
Back together
February 6, 1998
Takaishi and Fuka are now both single. Can Sana and Zenjiro play Cupid and help these two get together?
96
096
Adult love can wait
February 13, 1998
Asako is getting ready for London but Rei is not ready to give up his career for her. Is this the end of their relationship?
97
097
The lending-money-happily scheme
February 20, 1998
Misako's ex-husband is back again to ask for money, but this time, he's serious... at least, he thinks he is.
98
098
Love design by my sister
February 27, 1988
Akito's sister falls in love with the "perfect" guy, but it seems that he's a massive playboy that is dating many other girls.
99
099
Come check out the good karate club
March 6, 1998
Sana wants to form a karate club for Akito's sake, but they need at least five members and a faculty advisor.
100
100
Disappearance of the blackboard erasers
March 13, 1998
Nakao, a karate club member, cannot find any meaning in his existence and chooses to rot away in the north wing with the blackboard erasers.
101
101
The trio disappeared together
March 20, 1998
Sana and Akito are stuck in the window and cannot call for help but their friends have noticed their disappearance and have alerted the faculty.
102
102
Kodocha continues through thick & thin
March 27, 1998
Sengoku-sensei's evil plot to expel Akito is revealed and he decides to resign from his position. Akito and Sana kiss for the last time in the anime and Akito says that after he receives his black belt in karate, he has something to tell Sana, and Sana says she has something to tell him, too.